If you're thinking about or beginning to build a smart home system, you must know that picking a good hub is just like building a house. Building a house needs a good foundation. Choosing the right hub is to build a good foundation for smart home. The best smart home hubs make it easy for all of your smart home devices to work with each other. What's the best smart home hubs? I'll be digging a little bit deeper into the matter, which are the best smart home hubs, and what their best features and benefits are.
1. What Should You Aware?
(1)Freely Compatible.
Before you purchase a hub for your home, make sure you select one that interacts with all the smart products you already own. Since smart products have been designed by many different companies, they respond to many different protocols, or "languages," which means they may have limited compatibility with some smart hubs. There's guarantee that any singular hub will be compatible with every device. That is ensuring that all of your different devices are compatible with each other.And if you make sure those smart home products are compatible with each other, you'll build a solid foundation that you can expand over time. 
To avoid futility, when you buy a hub, you can ask the seller if it is compatible with the device you bought earlier.
(2) The same APP.
Most smart homes have their own APP and voice assistant, the most important of which is having a single user interface to control everything. It's best if you can control them from the same APP.  This will be much more convenient for you when you want to control your home. No need to switch between two or more apps for the most seamless integration.
(3) A Fully Functional Hub
You won't get to enjoy smart home technology as much as you could if you're not leveraging the power of smart home hubs. So picking a fully functional hub is crucial. For example, open the garage door for a delivery when you don't want to provide full access to your home, receive a message any time your front door is opened or have your security camera send you a photo when motion is detected near your fence gate, front porch or back door. All these things and more are possible with a smart hub.
(4) 

Ease of Operation

To ensure a truly interconnected smart home with all the conveniences and benefits, consider investing in a hub, like the Samsung SmartThings, that acts as the brain of the home and connects with all your individual smart appliances and devices to tell them what commands to carry out and when to do so. Think of the smart hub as the unifier that connects with every sensor in your home and enacts several commands at the exact same time automatically. Talk about modern-day conveniences!
(5) An Affordable Cost
There are various hubs in the market, which means there are price differences between them. If your wants and needs are simpler, just a few relatively inexpensive products will deliver most of the conveniences a high-end smart home can deliver, and on a much more modest budget.
2. How We Selected
We researched the top smart hubs that are well received by consumers. To determine the Score, during the test, we changed several different people to operate the same hub to test whether the hub is easy to operate and suitable for each type of people. Our Score represents the percentage of people who bought and rated the product at least four out of five stars on retail and review sites like Amazon and Best Buy.
These are the best smart home hubs and controllers based on our testing and reviews.
score:5-star review | popularity:★★★★★
This system is here, ripe, mature and developed.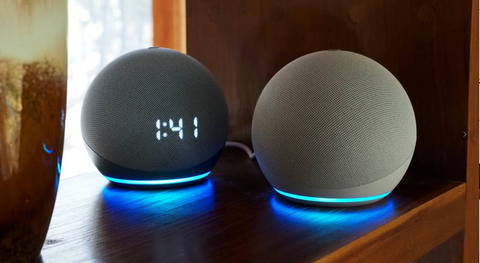 What so many people don't mention is, if you're starting off to make your home a smart home, you'll maybe need a Bridge or Hub that can utilize Zigbee, Z-Power or Thread. Google Hub isn't actually a hub that can support those radios and the hubs can be about $50-$100 on their own. So Echo 4 comes with a hub to use for smart locks, bulbs, cameras, doorbells etc and it has Airplay. Of course, the Echo can seamlessly connect with many other smart home devices with Alexa built-in, but now it can control Zigbee devices too.
After our tests, here's what we found:
Whether music was playing, or it was a silent room, the Dots' microphones had little to no issues hearing our commands from near or far. The blue light is a quick and easy indicator as to when Alexa is listening, and it's easy for anyone — no matter the age — to know when it's time to ask a question or give a command.
– Superb directional audio with good bass
– More practical and portable design
– Brighter LED strip indicator
– Smaller plug is less bulky than previous generation
These are personal thoughts, but something you would want to contemplate before buying yourself an Echo Dot. Along with all its good, here are the cons:
– Zigbee hub remains a gimmick for most home users
– AZ1 Neural processor not taken advantage of by Alexa
– No WiFi 6 could affect some
score:5-star review | popularity:★★★★★
It was so easy to set up and is effortless to maintain. Integration with Alexa is quick and easy.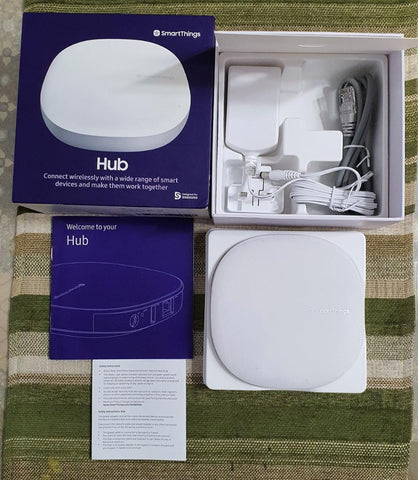 Samsung's SmartThings hub has long been the best option for integrating all such devices so that. Apart from its extensive automations, the best reason to purchase the SmartThings Hub is that it can connect to an incredible number of smart home products. such as Ring video doorbells, Arlo cameras,Philips Hue, Lutron Caseta, Ecobee thermostats, TP-Link smart plugs and switches, smart locks from August, Yale, Schlage, and Kwikset, and yes, even Nest products. It's incredible.
There's a USB port on the back -- one less than the previous generation -- but, as with the second-generation hub, you can't do anything with it.  For years, Samsung has promised that you'll be able to plug your device into it using this port;  I began to lose hope.  The same is true of the Bluetooth modules in both hubs, which are only used for Settings.  
After our tests, here's what we found:
The interface is a bit clearer than before. Now, the home screen is divided into sections based on what devices you have in each room and their status. Each device has a small card, and lets you control each. 
The hub can connect Zigbee and Z-Wave devices from 50 to 130 feet away (depending on the structure of your home).  But because you can connect this hub to your router over Wi-Fi, it's much easier to place it in the ideal location of your home.  
These are personal thoughts, but something you would want to contemplate before buying yourself a Samsung SmartThings Hub. Along with all its good, here are the cons:
– This hub lacks many user oriented feature.
– It only works in certain countries.
– It's lack to support leading protocols like Insteon.
– It does not even support it's predecessor Hub Ver 2.
– It lacks the battery backup of the previous model.
– Perfect functionality means a higher price.
 score:5-star review | popularity:★★★★☆
Easiest automation system to set up, use, enjoy, expand, brag to your Nerd friends about.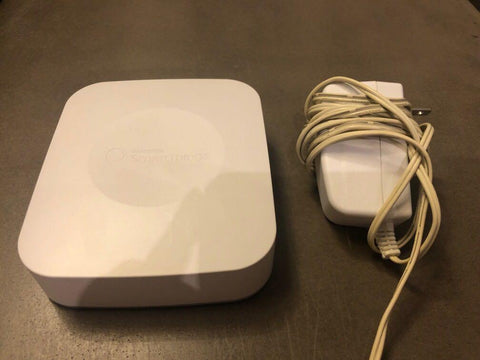 Both smart hubs have powerful capabilities compared to SmartThings V3, but we can't deny that from a technology perspective, SmartThings V3 is the best of the two.  But SmartThings V2 has a silver lining. Let's take a look.
First, from an energy source perspective, the SmartThings V2 has a backup battery, this is not necessarily a bad thing.
From a technical point of view:
First of all,the new hub uses the latest Zigbee and Z-Wave protocols as well as Bluetooth 4.1, but SmartThings claims that V2 will receive Zigbee 3.0 support later this year.
Second, SmartThings V2 supported Samsung and D-Link cameras via a local connection as well as cloud connected cameras. SmartThings V3 will only support cloud cameras.
Third, SmartThings V3 is slightly less functional.  However, SmartThings promises that this will not affect performance.  In fact, they promised that SmartThings V3 would have the same local execution capabilities as SmartThings V2.  
Fourth, SmartThings V2 is cheaper than SmartThings V3.
But it's also important to know the difference between V3 and V2.
The V2 also has some inevitable drawbacks
The most striking difference is that the SmartThings V3 is wireless.  Although the Ethernet port will remain, it is no longer required, which means you can free up even more coveted Ethernet outlets. SmartThings V2 is wired, which means it takes up an extra outlet.
Additionally, when it comes to the installation, The SmartThings V2 mainly relies on a mounting plate which is a little more tricky to install While the SmartThings V3 has replaced that plate with an efficient 3M peel-and-stick installation.
Last but not least, SmartThings V2 possesses a bulkier.
Final Thoughts
I recommend staying with the same brand throughout your house. It makes it easier to trouble shoot later on. Still confused, unsure what hubs to go all-in on? We're here to help. Read our guide to the best smart home systems for a deeper dive on all the above platforms, and more.